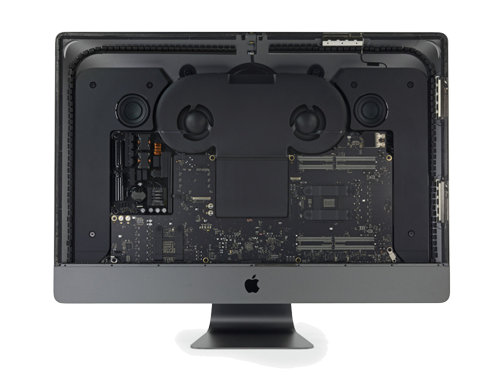 Apple Mac Repairs
If you need an Apple Repair, let one of our certified technicians help get you back up and running quickly.
Whether you are a local business, or a retail customer, our Apple repairs are done to the highest standards and we offer quick turnaround times. All Apple repair work is done in-house at our shop in Hersham, Surrey. We can also offer on site repairs where required.

We know how frustrating it can be waiting for your Mac to be fixed, so we offer same day turnaround and don't require appointments. If you want to bring your Apple Mac or iMac to us for a repair or service you are welcome to just walk-in.
One of our certified technicians will sit down with you and discuss your support needs, giving you the individual attention you deserve. They are all versed in Apple's entire product line, including older products, so problems can be diagnosed quickly.
We explain clearly what repair options are available, and if any additional parts will be required. We won't commence any work or fit any replacement items without getting prior authorisation from you.
If you are struggling for time to visit us, you can book an onsite callout, where one of our certified technicians can visit your office or home within 24 hours.
We can help fix Apple software and hardware issues, whether your Mac is in warranty or not.

Some of the more common repairs we help with:
Hard Drive Failure
Screen Damage
Viruses
---
Optimisation & tune-up
Does your Apple Mac freeze or crash often?
Like an oil change for your car letting us run a full diagnostic tune-up can resolve annoying slow-downs and help your Mac laptop or iMac desktop achieve more efficient performance.
---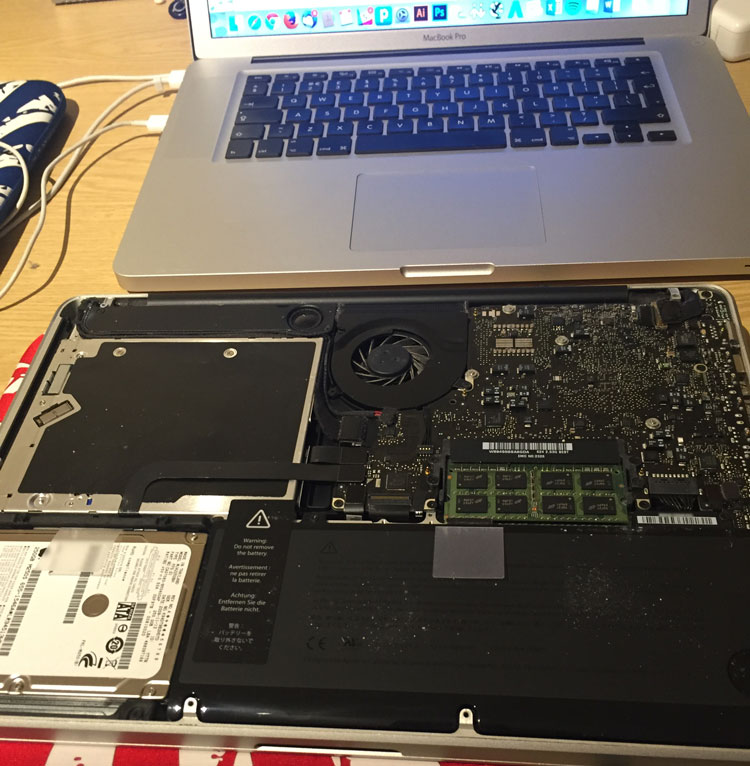 Upgrade your Apple
Memory – Replacement and upgrades of RAM
Hard Drive – SATA, SSD (solid state drives) and new SSHD (hybrid drives) for faster and more efficient storage and start up times
Accessories – DVD Super Drives, keyboards, mice and touchpads
Operating System Upgrades

10.9 (Mavericks)
10.10 (Yosemite)
10.11 (El Capitan)
10.12 (Sierra)
10.13 (High Sierra)
10.14 (Mojave)
Other Services

Printer installation and setup: Wired and wireless functionality.
Data backup and recovery using Apple's automatic Time Machine.
MAC TUTORS: Tutorials and training in Elmbridge: patient, friendly and clear.
Transfer all your data from an old Mac to a new one: Applications, Music, Movies, Photos, Documents and Mail.
Internet and Network installation, configuration and troubleshooting: DSL, Cable, Wi-Fi, Apple Airport Extreme, Airport Express and Time Capsule.
Wired and Wireless network installation, configuration and troubleshooting for modems, routers, hubs and switches.
We can also help get iCloud set up and synced on all your Apple devices
We've been helping repair Apple Macs for over 7 years, and have thousands of happy customers. We provide quick, friendly and cost effective solutions to help get you back up and running.
What do our customers say?
Stunningly brilliant service and help from extremely knowledgeable operatives at Surrey Computer Centre. My computer had died and within hours this super company had sold me a really very attractively priced and up to date second hand computer and had transferred all my data and set me up with every thing I needed with easy to understand explanations as to how use it. I am delighted with what I have got and cannot recommended this company more highly. Well done indeed.

SIMON COWLEY


30th May 2019
Took our Lenovo touch pad in for repair and Erik and Mark went the extra miles to source the part to resolve. It would have been so easy to have told us to scrap and srart again. Cannot recommend them more highly Thank you.

Paul Hickson


14th July 2018