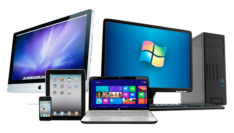 We stock a large range of Apple Macs, from the new MacBook air to the ultra-powerful iMac Pro. New and refurbished options available.
More
What do our customers say?
Brillant service, welcoming staff who provided excellent advice on replacing an old PC. Transferred old folders and files to new unit without any problem. Delivered new computer to home and installed everything I needed to carry on computing. Thoroughly recommend. Ray

Raymond Thorn


8th February 2020
Stunningly brilliant service and help from extremely knowledgeable operatives at Surrey Computer Centre. My computer had died and within hours this super company had sold me a really very attractively priced and up to date second hand computer and had transferred all my data and set me up with every thing I needed with easy to understand explanations as to how use it. I am delighted with what I have got and cannot recommended this company more highly. Well done indeed.

SIMON COWLEY


19th May 2019