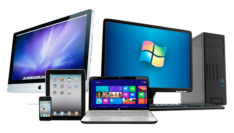 We stock a large range of Apple Macs, from the new MacBook air to the ultra-powerful iMac Pro. New and refurbished options available.
More
What do our customers say?

Brought a new laptop from a high street chain and its run slow from the start, constantly hanging and a source of endless frustration. After returning it twice with no improvements and on average 7 day turn around time decided it was time to take it to an independent store. After a day with Surrey Computer Centre, more ram, new anti virus and software clean I have it back. Eric and team have undersold the upgrades – despite being told it will never be the fastest machine I am sat here streaming amazon with outlook and word open and the laptop isn't breaking a sweat. Before the upgrade/fix the noise of the hard drive and fan being thrashed would drown out the video, in-between everything hanging! Very happy customer.

Craig Kershaw


12th December 2018